Hopper batching plant has wide application in industrial concrete mixing projects where temporary production requires ±2% error in concrete. It has characteristics of less land occupation, easy maintenance, easy installation and simple operation, so it is much more popular on the market, which is a smart investment. In China, we use cement. Additive, water, sand, pebble, etc as raw materials, through loading, conveying, storing, batching, weighing, mixing and unloading, can produce finished concrete that meets quality requirements.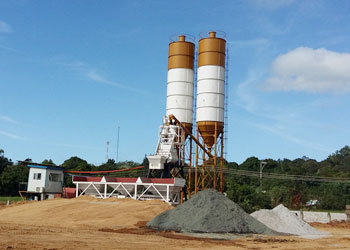 Characteristics and features of skip hoist concrete batching plant
1. This series of concrete plant consists of batching system, mixing system and electric control system. Meanwhile, it is with manual control, automatic compensation for drop, sandstone water content compensation, can achieve automatic concrete production.
2. Fast installation. Including control system and batching machine, it takes about ten days to install the equipment before production.
3. Feeding of skip hoist concrete batch plant is by means of hoisting lifting hopper. The unique design of the hopper and track makes it easy and efficient to hold and dump the aggregate, and greatly reduces the footprint of the site.
4. All of powders is in closed state during conveying, measuring and discharging. We use cement silos to store the powders. The main tower is provided with imported dust collector and induced draft fan, negative pressure adsorption aggregate aggregate cover, main machine, powder measuring bucket and other places; dust belt conveyor with outer packaging and receiving chute; the main tower can adopt a fully enclosed structure. Thereby reducing dust and noise pollution.
5. Small concrete plant with skip hoist has small electric power, light load, short track, and has general requirement of productivity. Generally, the lifting motor is directly started, and the limit switch is used to control the lifting and stopping.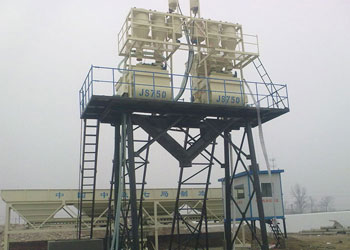 Working principle of concrete plant with skip hoist
Before the production, you need to know no matter aggregate, powder or additive, batching, weighing of all raw materials are synchronously.
Aggregate: The wheel loader will load aggregate to the hopper of concrete batching machine, through batching and weighing, batched aggregate will be discharged to the skip hoist, and skip hoist will convey and discharge aggregate to the concrete mixer.
Cement and fly ash: In China, we use cement and fly ash as powder for skip hoist type concrete mixing plant, the powder will enter their own weighing system through screw conveyor, and through weighing, enter twin shaft concrete mixer.
Water and additive: users should prepare a water pool to supply water, and additive is in additive tank. Then two types of liquid enter their weighing, after weighing, enter the mixing engine.
When three types of raw materials are in the mixing tank, start mixing according to the designated time, later, produce fresh concrete.