Bitumen decanter is designed to extract the solid bitumen from the barrels, bags, and wooden cases, or something like that by melting method.
& 20s Turning Barrel Into Mixer
& Automatically Reverses Oil Barrel
& Internal Circulation Function
& Automatic Slag Removal
& Convenient Relocation
Main Features & Advantage:
Bitumen drum decanters offer many advantages over traditional melting of bitumen. Read them below:
1.Easy availability of bitumen to remote locations.
2.Easy, safe and cheap way to melt bitumen.
3.Less time to install.
4.Proven and maintenance free design.
5.No special operator required for using the machine.
6.Diesel burner supplied with thermic heater is fuel efficient.
7.It is economical because in a short time it helps melt good quantity of bitumen.
8.It controls temperature thermostatically.
9.Heating is indirectly by hot gases and this method makes sure that bitumen aging does not take place.
10.Since heating is by hot gases the barrels are heated uniformly .
11.The heating chamber is fully insulated to minimize heat loss.
12.Enough storage of bitumen below allows storing bitumen. It can be pumped out any time required.
13.Design is environmental friendly.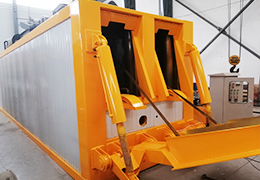 Turning over the barrel and turning the barrel into mixer can be completed in one time, single bitumen decanting process takes less than 20s.

The machine automatically reverses the oil barrel instead of manually turning over the oil barrel, which greatly reduces the labor intensity of the workers.

The bitumen pump set has an internal circulation function to optimize the heat transfer coefficient and increase the bitumen melting speed.
The electrical operating system uses in both manual and automatic ways.

Hydraulic cylinder speed can be adjus

ted according to actual needs.

A

u

t

omatic slag removal:

The equipment has automatic slag removal function. The asphalt pipeline system is provided with a filtering device, which can automatically remove the sla

g of the barreled bitumen through the filtration of the filter.

Environmental protection: closed structure, no pollution.

Adaptability: It can be customized according to various sizes of asphalt drums.

Convenient relocation: The whole machine adopts modular design and compa

ct structure, which is convenient for relocation and quick assembly.